Madh Island is a group of several quaint fishing villages and farmlands in northern Mumbai.
Description
Edit
The very scenic Erangal village is one of the prominent villages in Madh Island. The villagers of Erangal are mostly traditional farmers who cultivate the adjoining farmlands. Today, Erangal is dotted with several holiday cottages and bungalows too.Madh Island barely escapes being called a peninsula since only a small creek, bounded by mangroves, cuts it off from the mainland near Aksa. At low tide, one can almost walk across the beach sands from Dana Paani beach in Erangal to Aksa beach.
Madh Island's proximity to the sea and its secluded nature has resulted in several hotels being set up there. Many of the city's rich have bungalows here. The area is also known for its rave parties. Many movies as well as TV serials are also filmed here. There are two old forts situated in this area. By about 1-2 kilometres away is Madh Island where the Local Kolis, Farmers, are being. The Ancient church of Our Lady Of Sea Church is located just 100 metres above the sea from where you can see plenty of kolis going for fishing. This fish is either sold in the Madh Market or brought to Malad Market for selling. The Local farmers doing the agricultural activities ,the vegetable which are commonly known as local Bhaji's being sold in the Market which is also called the Madh Market. The ICE factory which is just away from the Church where in Sea fish being stored & supplied in the market. The Famous known Temple of Harbadevi is located on top hill which shows a significant view to watch. In the midst of the Sea there is a Temple, Cross & the Muslim Darga where in all the believers visit there.
Geography
Edit
The area is bounded by the Arabian Sea to the west, and the Malad creek on the east.
Accessibility
Edit
The area is accessible by bus service (#271 to Malad and #269 to Borivili) or autorickshaw from Malad or a ferry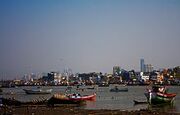 service from Versova. The Bus Service from Andheri is 249,251 & 221 which are easliy accessed.
Demographics
Edit
The area is a rural area inhabited by Kolis, East Indian Roman Catholics in Madh village as well as by people from other communities too.
Points of interest
Edit
The famous church of St. Bonaventure, a 16th century Portuguese church is situated on the beach in Erangal. The annual Erangal Feast held on second Sunday of January, celebrating the Feast day of St. Bonaventure, attracts thousands of people of all faiths to this scenic spot.
Hotels: The Retreat The Resort
Community content is available under
CC-BY-SA
unless otherwise noted.