Charni Road
is a railway station on the
Western Line
of the
Mumbai Suburban Railway
. The main significance of
Charni Road
station is that it is near the
Girgaum Chowpatti beach
and
Marine Drive promenade
, a major destination for tourists in
Mumbai
. It is also important because of the diamond trading industry located here, mainly in the Panchratna building near the railway station.The station derives its name from the fact that grazing lands for cattle and horses were located nearby in earlier days (Charne in Marathi means to graze)[citation needed] In 1838, the British rulers introduced a 'grazing fee' which several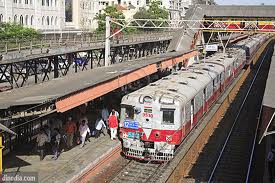 cattle-owners could not afford.[citation needed] Therefore, Sir Jamshedji Jeejeebhoy spent 20,000 from his own purse for purchasing some grasslands near the seafront at Thakurdwar and saw that the starving cattle grazed without a fee in that area.[citation needed] In time the area became to be known as "Charni" meaning grazing. When a railway station on the BB&CI railway was constructed there it was called Charni Road. The BB&CI line from
Back Bay
to
Virar
opened in 1867. In 1884, Sir Adamji Peerbhoy (1845–1913), a well known philanthropist from Mumbai, India, built several properties (a Bohra kabrastan (cemetery/burial ground)), masjid, Senatorium, and Amanbai Charitable Hospital later known as Saifee Hospital) on Charni Road opposite the railway station. He wanted to provide a safe haven for the travellers, poor, or needy to rest, use the masjid for prayers, or the hospital if they needed it. After Sir Adamjee Peerbhoy's death, his grandson Akbar, against the wishes of the family, converted the properties into a trust. The family resisted the change, but Akbar had a lot of influence. He was the son of Abdul Hussein Peerbhoy (who was the second out of seven children of Sir Adamjee Peerbhoy, who had engineered and build the Matheran Railway)[citation needed] The property was out of the hands of the Peerbhoy family and into the hands of the trustees. The trustees were later on changed by the Syedna (leader of the Dawoodi Bohras) and the new trustees handed over the property to the Syedna. The property was built for the benefit of the poor and the needy. The property still exist on Charni Road and is still under the name of Sir Adamji Peerbhoy. Hopefully the name of its original builder and its purpose is preserved and it continues to be used for the community and hospital for the benefit and welfare of all people as charitable.Today Charni road is well known for its old charm Chawls, wholesale markets of diamonds(Opera House), garments, Irani cafés traditional Maharashtrian culture (Girgaon) and also tall skyscrapers.
Community content is available under
CC-BY-SA
unless otherwise noted.