The Cooperage Ground is a football stadium in Mumbai, India. It is currently used mostly for football matches and is the home stadium of Mumbai F.C. and FC Air India. The stadium holds 5,000 people. The Western India Football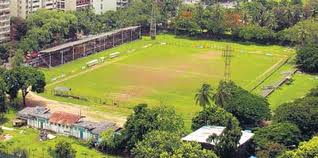 Association also operates from the Cooperage Ground. The Mumbai District Football Association also hold a small office. It is a venue for India's premier national league, the I-League, as well as the Mumbai Football League.
The stadium was a one-tier stadium with roofing only under the main stand. The seating was of wooden planks. The stadium was completely dismantled and as of May 2012 is undergoing renovation. The new stadium will have a capacity of 5000 people. There will be bucket seats installed unlike the previous wooden planks. One of the 10 FIFA sanctioned artificial turfs has been installed here.
Amateur FootballEdit
The Cooperage Ground has been around since 1993 but has not really been used to a real extent till 2007 when the I-League was created.
In April 2011 plans were announced for the Cooperage Ground to be renovated when FIFA announced that they would give the West India Football Association two million dollars in order to renovate that stadium. On the 12th of June 2011 it was announced in the Bombay High Court that the West India Football Association would be given the right to renovate the Cooperage Ground. While the stadium was being renovated the two I-League teams Mumbai F.C. and Air India FC would have to play their matches at the Balewadi Sports Complex.
Community content is available under
CC-BY-SA
unless otherwise noted.