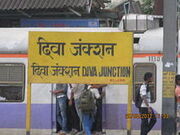 Diva is a Junction between Mumbra and Kopar that is situated in Diva, Maharashtra in India. It connects Central Railway  with Vasai  on western railway and thus provides passenger and freight trains from Southern India travelling towards Gujarat to bypass heavily congested Mumbai  suburban traffic.
This is a major junction in the central railway of Mumbai. One end of the Asia's one time third largest Parsik tunnel (1.3 km) built during the British Rule (1916) in India ends at Diva Railway Station. The east part of Diva station is Sabe and west is Diva.
Diva junction also connects with rail link to Panvel from where Konkan railways originate to Goa and Mangalore.