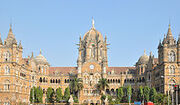 The Portuguese offered Mumbai (formerly known asBombay) as part of dowry to King Charles II ofEngland, on his wedding to Princess Catherine de Braganza ofPortugalin 1661.
By 2020 Mumbai will have 27 Million people and will be the 2nd largest city in the world afterTokyo.
Mumbai handles 26% of the domestic air traffic cargo and an average of40%of the international air cargo traffic in the country and about 25% of the domestic and 38% of the International air passenger traffic in the country
The number of telephone connection in Mumbai is estimated to be approximately 2.31 million. Of the approximately 7 million cellular subscribers inIndia, 10% of the subscribers are believed to be in Mumbai.
Mumbai holds the record for the highest rainfall of any city in a single day. On 26th July 2005 942mm of rain was recorded.
More than 6 million commuters travel on Mumbai's suburban rail network each day. During peak periods, carriages carry three times their maximum capacities, resulting in what the rail company calls a "Super Dense Crush Load."

Mumbai is built on what was once an archipelago of seven islands.
As of 2009, Mumbai was named an Alpha world city. Alpha world city is also called global city or world center and refers to a specialized city deemed to be an important node point in the global economic system.
The name Mumbai is an eponym, derived from Mumbai or Maha-Amba—the name of the Koli goddess Mumbadevi—and Aai, "mother" in the language of Marathi.
Community content is available under
CC-BY-SA
unless otherwise noted.