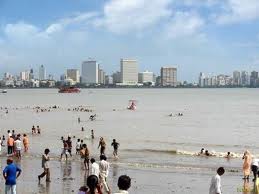 Girgaon, also spelt Girgaum, is an area in southern Mumbai  in Maharashtra, India.
Girgaon (lit. hill village) gets its name from being located at the foot of Malabar Hill  in South Mumbai . The culture in Girgaon is diverse and varied. Like most areas of cosmopolitan Mumbai, residents span diverse languages, religions, traditions, festivals, and attire. Girgaon occupies prime residential real estate due to increasing demand just because of its prominent location in South Mumbai. Of the seven original islands of Mumbai city, Girgaon alone has the distinction of being located at the base of hills (Malabar Hills). The Sanskrit term "Giri" stands for hills, whereas the sanskrit word "gram" denotes a village. Thus, it originally meant a village at the foothill of mountains. A birds' eye view from the top of the vegetation clad Malabar Hills will justify this etymological finding.
Khetwadi, originally an area with a sparse population living off agriculture and plantations, developed in the mid-19th century with the widening of Parel road and the Girgaon road [then called the Breach Candy Road]. In 1839, Grant Road was completed, leading to a large migration of people into this area. Girgaon got its own station much later Charni Road which was opened in the year 1867. Today it has become a hub for diamond traders and wholesalers of almost all the traditional businesses.
There are a large number of temples in this area. The most well-known is Thakurdwar, built by the ascetic Atmaram Baba, who died in 1838. The Kalbadevi temple, dedicated to Kali, was moved to its present site from its original location in Mahim during the rule of the Gujrati sultans. The Dadi Seth Agiary was built in 1783, the Hormusji wadia Fire temple in 1839.
Situated at the south end of Mumbai, Girgaon is now turning into one of the demanding residential and commercial places due to its geographical location.
Location & Geography
Edit
Each area of Girgaon follows its own customs. Communities like the Marathi-speakers, Gujarati, Konkani, Jains, Marwaris, Christians, and Hindus follow their own customs and rituals. They celebrate different festivals, follow different customs for birth, marriage, death, and other important events. Therefore, while it is easy to sense that Girgaon is different from other societies, it is very difficult to define conclusively what is essentially Girgaon or to see how such a diversity of peoples and cultures can be related to one another. <p style="margin-top:0.4em;margin-bottom:0.5em;line-height:19.200000762939453px;color:rgb(0,0,0);font-family:sans-serif;">This is also the area in which  Ganesh Chaturthi is celebrated in great style. The area is filled with crowds when the Ganesh Visarjan is carried out. It is not only about Ganesh Chaturthi. Girgaon also celebrates other festivals with equal zest whether Diwali, Gokulashtami or Makar Sankranti .
Attractions
Transportation
Edit
Social Infrastructure
Edit
EducationEdit
Religious PlacesEdit
Community content is available under
CC-BY-SA
unless otherwise noted.