Goregaon (pronounced as Goregaanv) is a locality situated at the north of Mumbai. It is a railway station on the Mumbai suburban railway on the Western Line.
Bracketed on either side of the railway line by the Western Express Highway and the Linking Road, Goregaon was primarily a middle-class residential neighbourhood. However, the area is now turning into a wealthy suburb. Famous film studios such as Filmistan and Film City are located here.
Goregaon has three major bus depots. The Bus Depot is located in Goregaon East and the Goregaon Bus Station is located at Goregaon West, and is next to the railway station. Goregaon Bus Depot is further away and closer to Oshiwara Bus Depot.
Until the late 1970s, the suburb was sparsely populated with residential localities which sprung up in Nagars such as Unnat Nagar Vibhag 1 to 4, Jawahar Nagar, Motilal Nagar, Bangur Nagar, Shastri Nagar, Siddharth Nagar, BEST Colony, Piramal Nagar, Mahesh Nagar in the West and wadis like Pandurang wadi and Jaiprakash Nagar on the East and Manzil like Madina Manzil on the west.
The eastern boundary of the suburb was effectively the Western Express Highway, which separated Goregaon from Aarey Milk Colony.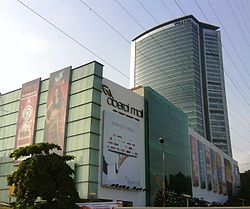 The housing boom of the 1980s saw expansion in terms of real estate and population density. On the East, newer areas such as Dindoshi, Gokuldham, Yashodham, Saibaba Complex, Film City Road, etc. and on the West, Bangur Nagar, Lokhandwala Complex (now considered a separate suburb) and Link Road were the development hubs. The rail and road infrastructure was stretched as it did not expand.
Besides the above, Goregaon (E) also is home to the recently developed area known as New 
Dindoshi consisting of the Nagari Nivara Parishad (NNP), a housing scheme for the lower middle class. There are more than 30,000 people living at NNP, distributed between two zones.
Early historyEdit
The prime land under the mango and guava plantation owned by the Topiwala Desai family was taken over by the Maharashtra government and handed over to the Mumbai Housing Board during the 1950s.What is now known as Goragoa Suburb is a conglomeration of four villages: Pahadi, Goregaon, Aarey and Eksar. Goregaon got the railway station in 1862. The suburb was one of the four railway stations between Borivali and Grant Road and was known as Pahadi or Pare. Th name of the railway station was subsequently changed to avoid confusing it with Paradi, a railway station in South Gujarat on BB&CI (now Western Railway). On official records, the name of tehasil still appears as Pahadi Goregaon.
Goregaon is named after a former resident of named Gore. After his death, his wife Mrinal Gore, continued to work to provide drinking water for the area. There are two trusts which are known as Gore trusts .
Community content is available under
CC-BY-SA
unless otherwise noted.