Grant Road (
Marathi: ग्रँट रोड), named after Sir Robert Grant, the Governor of Bombay between 1835 and 1839, is currently a suburban railway station and former terminus of the erstwhile Bombay Baroda and Central India Railway. The terminus was established in 1859 to connect to Surat, over the years the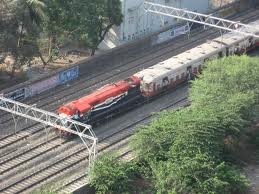 terminus facilities were moved to Bombay Central and facilities at Grant road were converted to cargo operations. Post independence the road which lends its name to the area and the station has been changed to Maulana Shaukatali Road
Towards the west of the Grant Road station is Nana Chowk (named after Jaganath Shunkerseth) and residential localities of Chikhal Wadi, Juni (Old) Chikhal Wadi, Bhaji Gully (the local vegetable market). To the east of Grant Road station is the retail electronic market of Bombay along Lamington Road. Grant Road station also connects famous Radha Gopinath Temple[ISKCON] at chowpatty. Many people can be seen chanting Hare Krishna mantra nearby the station. Novelty cinema is at the junction of Grant Road with Lamington Road. Famous places accessible to the West are Gowalia Tank (also known as August Kranti Maidan), Mani Bhavan at Gamdevi, Bhartiya Vidya Bhavan, Bhavan's College, Wilson College, Girgaum Chowpatty and Walkeshwar. Famous places accessible from the East are Gol Deol off Duncan Road, Chor Bazaar on Mutton Street,Hurkisondas Hospital, Prathana Samaj, Badr Baug.'The area has seen a construction boom taking advantage of the liberal advantages provided to reconstruction of cessed apartments and FSI laws applicable to South Bombay. A spurt in high-rise tower blocks has been observed as is all over the South Bombay landscape causing traffic bottlenecks and putting pressure on the civic infrastructure. In 2005, when dance bars were closed across Maharashtra state, many former bar girls moved to Congress House near Kennedy Bridge on Grant Road, Mumbai's oldest hub for mujra, and started performing mujra.
Accessibility : Bus routes connecting Grant Road Station (West) include bus numbers 155 and 157. Bus number 155 is a ring route via Pedder Road and bus number 157 is a ring route via Warden Road.
Community content is available under
CC-BY-SA
unless otherwise noted.