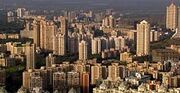 Hiranandani Gardens is a township located in Powai, a northern suburb of Mumbai , India. The township is approachable by Adi Shankaracharya Marg (ADS Marg), a part of Jogeshwari Vikhroli Link Road (JVLR). The nearest Mumbai Suburban Railway station is Kanjurmarg and Vikhroli. It is named after the Hiranandani Group (Niranjan & Surendra) who built this township. In a matter of 25 years; a quarry with 20 trees has been converted to a sprawling development.
The township is dotted with skyscraper residential towers, many with very expensive apartments. Its skyline is immediately recognizable due to the classic Greco-Roman architectural influences, especially at the topmost level. The residential towers often have a second underground parking level. Residents form cooperative societies to take care of issues related to utilities and aesthetics, resolve neighborly disputes and hold events on festivals or other occasions. Some communities have their own parks, children's play areas, sport courts, swimming pools or clubs within their perimeters. There are lot amenities available.
A new commercial area (Hiranandani Business Park) has been set up. It has become the home of several BPO setups. Call centers of ICICI and Wipro and Zenta are a few examples of the same. As a result Hiranandani Gardens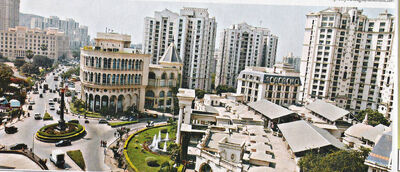 is now also been seen as a commercial hub. In addition to BPOs, Hiranandani Business Park houses IT, ITES and corporate offices of many other corporations. Spectra building is one of the landmark buildings here. It houses offices of corporates like Prudential India, Wipro BPO, Lionbridge Technologies, Transocean, Lehman Brothers now take over by Nomura as on 2008, Syntel Inc etc. The project is environmentally responsible with 5 million litres of water being recycled everyday and being used for flushing water and gardening.
To add to the quality of living experience the area has a vibrant local community newspaper called PLANET POWAI which informs and makes updates on local news, events and happenings. Recently, they have released an information packed book, 'Powai Guide and Yellow Pages' much to the need of the locals. In addition to these facilities, it also has a dedicated website Powai.Info and the region's social networking website Powai.Me.
Community content is available under
CC-BY-SA
unless otherwise noted.