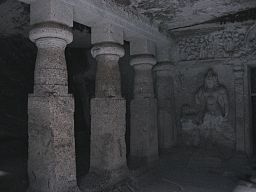 The Jogeshwari Caves are some of the earliest Hindus and Buddhist cave temples sculptures located in the Mumbai suburb of Jogeshwari, India. The caves date back to 520 to 550 CE . According to historian and scholar Walter Spink, Jogeshvari is the earliest major Hindu cave temple in India and (in terms of total length) ' the largest'.
The caves are located off the Western Express Highway , and are surrounded by encroachments. The caves are used as a temple by the encroachers. The caves are classified as endangered as sewage and waste enter the premises. They are also infested with bats .
The caves are accessed through a long flight of stairs into the main hall of this cavernous space. It has many pillars and a Lingam at the end. Idols of Dattatreya, Hanuman and Ganesh line the walls. There are also relics of two doormen.
The cave also has a murti and footprints of goddess Jogeshwari (Yogeshwari), whom the area is named after and a also considered as a Kuladevi to some Gujarati Brahmins.
Community content is available under
CC-BY-SA
unless otherwise noted.