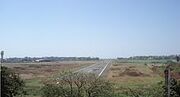 Juhu Aerodrome (ICAO: VAJJ) is an airport in Mumbai, India, serving small aircraft and helicopters. The aerodrome is located in Juhu, an upmarket residential suburb alongside the eponymous beach on the Arabian sea.Founded in 1928 as India's first civil aviation airport, the aerodrome initially could not be used all year round, owing to seasonal flooding of the mudflats it was located on. Waterlogging continued to be a major constraint until the land was raised in 1937.
In 1932, JRD Tata landed at the Juhu aerodrome, inaugurating India's first scheduled commercial mail service from Karachi and marking the start of Air India(then known as Tata Airlines), which was initially based out of a palm thatched hut at Juhu Aerodrome. Juhu served as the city's primary airport during and up to World War II. In 1948, it was replaced by the much larger Santacruz Airport which lies within a 2 km radius of Juhu aerodrome.
Today, the aerodrome handles all helicopter operations out of Mumbai. It also
hosts the Bombay Flying Club and several executive and light aircraft and gliders. In 2010, the Airports Authority of India(AAI), which runs the airport, proposed to extend the runway 08/26 into the sea to allow larger aircraft to land, however permission for this was denied by theMinistry of Environment and Forests. With the New Coastal Regulation Zone (CRZ) rules of 2011 permitting roads on stilts, the Airports Authority of India announced in January 2012 that it would once again pursue its plan of extending the runway at Juhu Aerodrome into the sea.
Community content is available under
CC-BY-SA
unless otherwise noted.