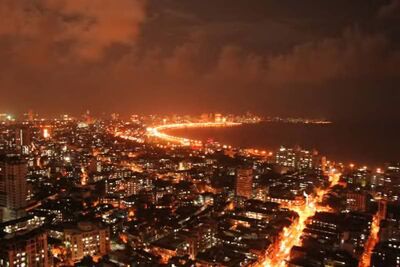 Marine Drive is a 3-kilometre-long boulevard in South Mumbai in the city of Mumbai . It is a 'C'-shaped six-lane concrete road along the coast, which is a natural bay. The road links Nariman Point to Babulnath and Malabar Hill . Marine Drive is situated over reclaimed land facing west-south-west. The bay is part of the Arabian Sea.
The Promenade
Edit
The official name for this road, though rarely used, is: Netaji Subhash Chandra Bose Road. It was earlier known as Sonapur to local Marathi people. The highlight of Marine drive is the beautiful promenade along the road where many of the citizens take in a breath of fresh air and view the setting sun. The promenade is lined with palm trees. At the northern end of Marine Drive is Chowpatty Beach. This is a popular beach famed for its Bhel puri (local fast food). Many restaurants also line this stretch of the road. Further down this road lies Walkeshwar, a wealthy neighbourhood of the city, also home to the Governor of Maharashtra.
Most of the buildings which were built by wealthy Parsis sport an art deco look that was popular in the 1920s and 1930s. Miami in the United States is the only city in the world that has more art deco buildings along the seafront than Mumbai.
Real estate prices along the esplanade are among the highest in India, and fourth in the world at US$2100 per square feet. A lot of celebrities live here, making it one of India's premier residential community. Many hotels dot the drive, most prominent among them being the 5-star Oberoi (formerly the Oberoi Hilton Tower however reverted to the original name as of early 2008), The Intercontinental, Hotel Marine Plaza and a few other smaller hotels. Marine Drive is the preferred connecting road between the central business district located at Nariman Point and the rest of the city.
Marine Drive is also known as the Queen's Necklace because if viewed at night from an elevated point anywhere along the drive, the street lights resemble a string of pearls,forming a necklace. It is also the world's largest viewing gallery and hence has been a host to a number of events that take place along the promenade.It is the major attraction in Mumbai city. It is a tourist place. But the accidents have been increased at Marine Drive enormously.
​
Community content is available under
CC-BY-SA
unless otherwise noted.