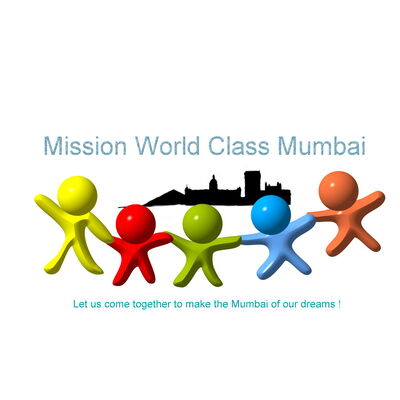 Mission World Class Mumbai is an initiative started by Mumbai Wiki , to bring together all the Mumbaikars to discuss the challenges and build the Mumbai of our dreams ! This initiative was started on 30 May 2011 . This initiative uses the maximum online media to promote the cause . The members have also given a positive support to us . The first aim was to make the people aware of the problems and challenges faced by Mumbai . The initiative began the use of powerful social medias like facebook , twitter , etc . The name of our facebook page is Mumbai . We have propagated many things through social media . We aim to create an online revolution of our cause .
Logo
The logo of this initiative (top right) is a very symbolic one . It shows that there are six different groups of people who can change the face of Mumbai . The different colours show common people , poor people , rich people , political leaders , environment friendly people and social activists .
Supportive Idea
While creating Mumbai Wiki , we created a research team to help us out in our project . However , when the research team explored every minute details of Mumbai , they found out some shocking things . They submitted a list of problems and challenges . This lead to the creation of this initiative .
Activities
Awareness Campaign
This was a highly successful campaign which we started on 30 May 2011 . We used social medias like Facebook and 'Mumbai Wiki .'
Community content is available under
CC-BY-SA
unless otherwise noted.