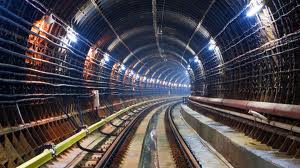 Being the first underground metro corridor of Mumbai , hurdles , challenges and delays are an expected event . Mumbai Metro Line 3 will have to go through numerous tunnel boring challenges before becoming a reality . 

  Unlike underground metro projects in other Indian cities, tunnels in Mumbai have to be carved out of basalt rock. Things could become worse if there is a mixture of rock and soil . Keeping these hurdles in mid , the Authorities have asked for Tunnel Boring Machines (TBMs) with certain specifications .
Most underground stations will be built using the cut-and-cover method, except for the ones at Hutatma Chowk, Kalbadevi and Grant Road, which will be constructed using the New Austrian Tunneling Method.Currently , the tndering process is ubderway and the actual work is expected by middle of the next year . The work is expected to be completed over a period of 6 years . 
Mumbai Metro Line III is a 33.5 km long undergroung metro rail project with twin tunnels , each 5.2 metres wide . The route consists of 26 stations . The route begins in Colaba , connects Churchgate and C.S.T. stations , runs along the western coast via Dadar , Bandra , B.K.C. , connects both the Airport Tereminals and terminates at SEEPZ . The depot is being built in Aarey Colony , work on which has already begun .
Community content is available under
CC-BY-SA
unless otherwise noted.