The Western Express Highway is a major north-south 8-10 lane arterial road in Mumbai , India, stretching from the suburb of Bandra   to Dahisar . The 25.33 km (15.74 mi) highway begins near the Mahim Creek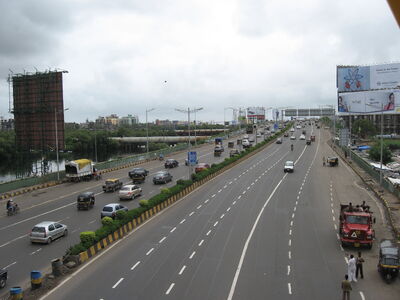 and extends to the Mira -Dahisar  toll booth in the northern limit of the city. Beyond the city limits, it continues as the Mumbai-Delhi National Highway 8. The road serves the city of Mumbai to its suburbs, including the Sahar International Airport.
This highway has been instrumental in reducing congestion on SV Road in western Part of the city. There are several flyovers built over the Western Express Highway. The Andheri Flyover was one of the flyover built over the Western Express Highway to avoid traffic lights for vehicles moving towards Vile Parle, Bandra and so on. Recently another project has been undertaken by the MSRDC to construct a flyover bridge from Vile Parle Onwards to avoid regular traffic jams that occur on the Highway. New reflectors are installed on the Express highway for better visibility of the road during the night. Signs showing directions have also been set up at major junctions of the highway.
Western Express Highway Photos