Wilson College has its own Gymkhana, with a wide range of facilities for indoor and outdoor sports. These include Athletics, Football, Cricket, Rugby, Hockey, Badminton, Weight Lifting, Boxing, Gymnastics, Table Tennis, Carrom, and Chess. Founded by principal Dr. Dugald Mackichan on March 17, 1910  it is on Marine Drive alongside popular gymkhanas like the Hindu Gymkhana and the Islam Gymkhana.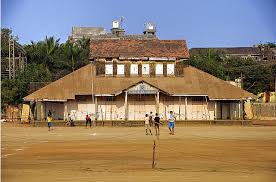 During its initial years, two tennis courts situated side by side and a cricket pitch in the centre were prepared. Tennis and cricket were the two most popular outdoor games at the time. However, a need for a pavilion building was urgently felt and efforts were made in that direction. Sir Shapurji Bharucha played a major role in the process, donating Rs. 10,000/- to meet the cost of construction.
The new pavilion building was opened by Lord Willingdon, former governor of Bombay, on 20 December 1916. Since then, sporting activities of the college have expanded immensely, with the school producing sportspersons at the state, national and even the International level.
Apart from the conventional sports, the college delved into less popular sports like Rugby, Water Polo and Yachting. Rugby was introduced in 1970 by former chemistry professor, Dr. James Barton.
Former cricketer Dilip Sardesai, Asian Women's Chess Championship winner Rohini Khadilkar and Arjuna Awardee for proficiency in yachting, Jeejee Unwalla have all been affiliated to the Wilson College Gymkhana.
On November 7, 1985, former governor of Maharashtra, K Prabhakara Rao was quoted saying "In a city like Bombay, provision of sports facilities side by side with education is something which very few colleges can boast of. In this, the Wilson College, one of the oldest colleges in the city, has been singularly fortunate. They have a gymkhana which provides excellent sports facilities to their students."
Community content is available under
CC-BY-SA
unless otherwise noted.